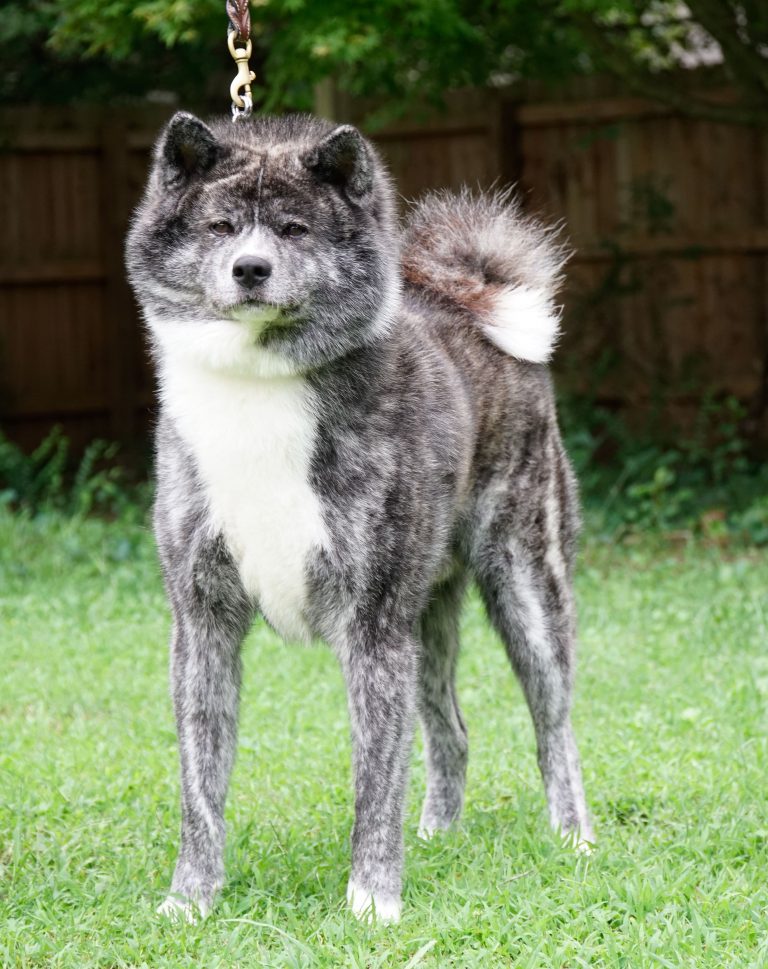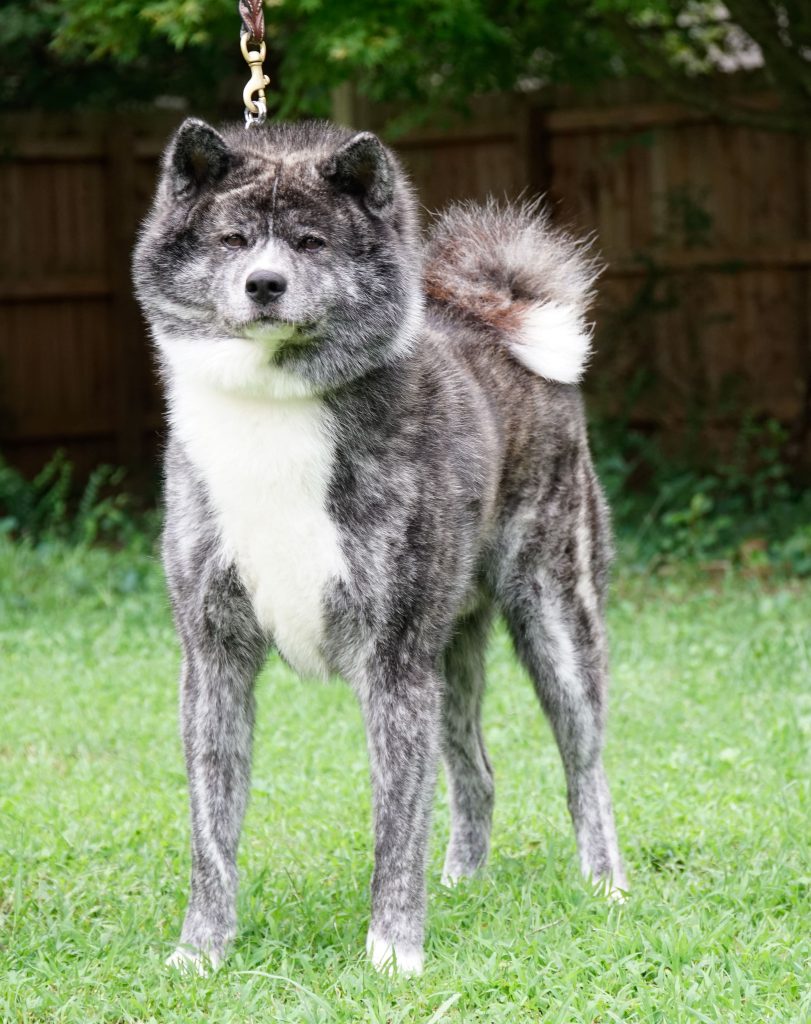 Gokkai was imported from Hokkaido prefecture, Japan in 2019 at two years old. While there, he was shown in the AKIHO ring and did quite well, earning 1st placement in his class twice. Additionally, he earned the Tokuyuu award at his very first showing at the AKIHO NA branch show in February 2020. 
Gokkai is an exceptional male. We are extremely pleased with his affectionate and loving personality towards all people and especially towards children. Additionally, we are very happy with the fact that he gets along well with most other dogs. As such, he has been a wonderful breed ambassador. Gokkai embodies the type that we want to produce at Shiranui Kennels. In particular, we love his coat, head, and moderate type.
Registered Name
AKIHO Tokuyuu UKC CH Hokkai No Ryuu Go Konatsu RUNN NTD
Call Name
Gokkai
AKIHO #
17-3186
UKC #
P915-843
Sex
Male
Color
Silver Brindle
Born
10 APRIL 2017
Genetics

E/e may contribute colored or white
kbr/kbr may contribute brindle, cannot contribute red
L/L will contribute normal coat, cannot contribute long coat 

Health

OFA Hips: Good, May 31st 2019
OFA Eyes: Normal with breeder options, January 2020
OFA Thyroid: Normal, June 2019

Amelogenesis Imperfecta (familial enamel hypoplasia (FEH)): N/N (not affected and does not carry the recessive gene)
Pedigree
Hokuto No Ryuu Go Konatsu
Kurozou Go Minatomaru
Kouki Go Misaki Ootanisou
Shimon Go Minatomaru
Shiranamihime Go Minatomaru
Dairyuu Go Minatomaru
Kurumi Go Motodatesou
Mika Go Konatsu
Dairyuu Go Minatomaru
Daiyuu Go Misaki Otanisou
Tsubomi Go Minatomaru
Sakurahime Go Konatsu
Kurozou Go Minatomaru
Shiranamihime Go Minatomaru
Conformation Achievements
AKIHO Tokuyuu, February 9, 2020
UKC Champion, February 8th 2020
UKC Top Ten #7 Japanese Akita, 2019  
Performance Achievements
New Trick Dog Title: Novice Trick Dog (NTD) April 26 2020
New Precision Coursing Title: Novice Sprinter (RUNN) June 15 2019
Show History
Specialty Show
Feb 9, 2020: 47th Annual AKIHO NA Japanese Akita Show. Seiken Male Tokuyuu 2nd. Judge: Shigeru Sano
Dec 2 2018: 139th Honbuten at AKIHO Headquarters in Odate, Japan. Sohken Male 11th. Judge: Unknown
Oct 28 2018: AKIHO Sohken Male 1st. Judge: Hironari Miura
N.D. 81st Hakodate Branch Show Wakainu Male 2nd. Judge: Unknown
N.D. 101th Tohoku Hokkaido Division Show Yoken Male 1st. Judge: Unknown
All Breed UKC
December 8, 2019: Best of Breed†. Judge: 

Kevin Izard-Carroll

. 
August 10, 2019: Best of Breed†. Group 3. Judge: Debra Florek. 
August 11, 2019: Best of Breed†. Group 1. Judge: Jennifer Landers.
† Competition Win towards Champion/Grand Champion
Japanese Breed Exclusive
International Show